April 17th, 2013 | Published in General announcements by PK | Comments are off for this post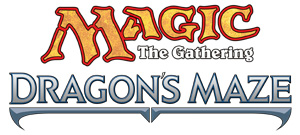 Join us for the Pre-release of the next Magic: the Gathering set – Dragon's Maze!
We are taking pre-registration to ensure you get a seat. Please drop us a line at endgame@endgameoakland.com and let us know what day and time you would like to play, as well as your first and second choices of guilds. Each guild will be limited per event, so make sure you register soon. If you are not at the event when it begins, you will lose your choice of guild and can choose from any remaining. You are welcome to take a seat at any or all of the different times, you just need to make it clear you would like to. Please do provide your phone number as well. If you have not pre-registered, then the event will be first come, first served until full. For more information regarding the pre-release, visit this page.
We are going to do it big this time, and run 5 separate events so you can get all the play in possible….including a Midnight Release!
Formats will be sealed ($28.00) and Two-Headed Giant ($56.00 per team), and Open Dueling ($15.00).
Here's the Schedule:
Saturday 4/27/13: 12:01am (Yep! Midnight release Party!)
Formats: Sealed/Open Dueling
Saturday 4/27/13: 11 – 4pm
Formats: Sealed/Open Dueling
Saturday 4/27/13: 5pm
Formats: Sealed/2HG/Open Dueling
Sunday 4/28/13: 11 – 4pm
Formats: Sealed/Open Dueling